So I'm now booked in for theatre tomorrow morning because I have Obstetric cholestasis (itching liver disorder) so they want to deliver asap.
It's not my liver that's itchy though, it's my whole blimmin' body! Especially the palms of my hands and soles of my feet.
Yesterday they gave me Monday as the day it would all happen, but after my bloods came back showing this disorder they've booked me in for tomorrow ARGH!!!
Feeling a little bit scared right now.
Feeling a little bit weird right now.
Feeling a BIG bit itchy right now!
Bizarre to think that I'll be FINALLY meeting this bambino in ONE MORE SLEEP!
Bizarre to be 'arranging' the day baby will be born. Weird.
Weird but very exciting non the less!
Austin will be spending the day here with me tomorrow and will be right there holding my hand the whole way. I am so grateful for this amazing man in my life.
So the procedure will be:
- take me into theatre prepped for a cesarean.
- they will try turning the baby
- if successful they will break my waters and wait until baby's head becomes engaged as waters drain, ensuring umbilical chord doesn't decide to come out at same time as waters...hopefully I can go on to deliver naturally from here.
- if unsuccessful or if chord comes out they'll go straight into c section. Wham Bham Thank you Ma'am.
I don't think I'll get much sleep tonight - especially with this blasted itchiness and all possible scenarios of what tomorrow may bring running through my mind...!
Anyways, I am pleased to report Austin's Ma and Pa arrived safely and full of beans this morning from New Zealand. It's SO WONDERFUL seeing them and having them here, cuddling & kissing and showering love upon their grandchildren. It does this heart of mine good.
(Pop and Beni watching motorbikes go past outside the hospital. SUPER exciting stuff!)
Granny & Pop are plunged straight into babysitting duties as of tomorrow! So pleased they are here, the timing couldn't be any better.
God knew.
God holds my world in His hands.
And more exciting news, I've finished the crochet blanket for baby! Perfect timing if I must say so myself.
For my first ever crochet blanket.
I think I did pretty darn awesomely.
And here's a bit of randomness...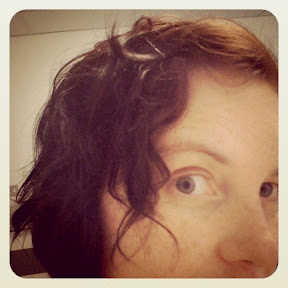 Curls. Ringlets in fact, where before there were no ringlets.
My hair has decided to go curly while I've been in hospital.
Strange. Bizarre even.
But I'm working with it.
So that's the latest update, hot off the press. Next time I blog I will be showing off a new wee girl-one or boy-one bubba!
Awwwwwww.
I'm SO ready for that!
Thanks again for your thoughts and prayers. Can't tell you how much I appreciate them! X
- Posted thanks to modern technology via my iPhone